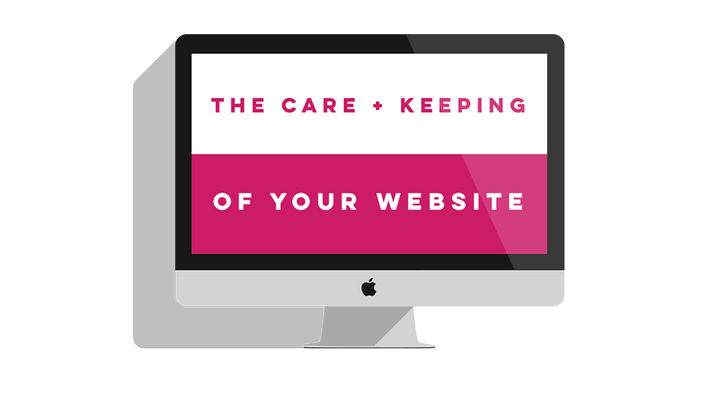 THE CARE + KEEPING OF YOUR WEBSITE
Everything you need to know after you launch your website: a strategic action plan to maintain, evaluate and grow your online home easily and consistently
You've finally launched your website. Halle-freaking-lujah! Wheeeee!
Except... apparently there's no manual? Well that can't be right, can it? Hmmm. Nope, definitely no instructions... That seems like a mighty oversight because you don't really have any idea what you're supposed to do next. I guess you could Google it?
You've heard peeps say that your website is an ever-changing thing, but what does that even really mean? How do you keep it working? When do you have to change it? How do you look after it? Is there anything you need to be looking out for? So. Many. Questions.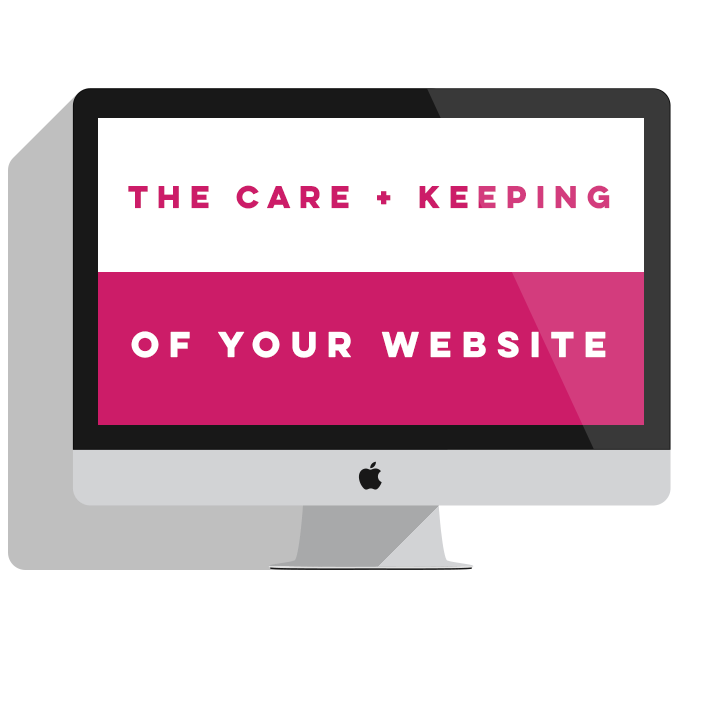 The Care + Keeping of Your Website is a field guide / how-to manual hybrid, turbo-charged with strategic action steps, to-do lists and a maintenance plan that will make growing your website in the right way easy to achieve.

It can be your constant trusty companion explaining what to do next and why - and gently reminding you to actually do it. When you have a new website, the worst thing that you can do is neglect it - this course is the missing structure and framework that you need for your online home to thrive and grow.

When you finally get to launch your shiny new website - whether you crafted it yourself or worked with a designer - you are just ridiculously super duper excited. You show it to everyone you know and you have really good intentions for blogging and looking after it and expanding it one day. Really, you're going to do it, you are. But without a real plan of action in place, it's very easy for life to get in the way and for your website to be overlooked.

After all, "build a website" is no longer on your to-do list, you have one now! (Yay, finally! And also, phew!)


When you're not entirely sure what you should be doing and why it's important, it's easy to not make looking after your website a priority.
But just because your website is shiny and new now, doesn't mean that it stays that way. After a while, maybe a few weeks or a few months, you might wake up and realize that your site is out of date - maybe you haven't updated the technology, or maybe you no longer offer that thing that you thought would be a great idea but really isn't, or maybe your lonely single blog post dated from 8 months ago still says "hello, I'm so happy to be here... I'm going to be blogging weekly so watch this space!".

Or worse, maybe you suddenly notice that you still have filler content where real stuff should be (hi not-making-sense-here-stock-photo, and welcome, text that says "add headline here"...).
Or worse-worse, one day you go to log on to your website and it's Simply Not There...
All of these things are signs that your website is being neglected.
Just like plants (and children, and pets, and all the things), you need to look after your website so it can grow up to be big and strong.
But, unlike that wilting houseplant, your website can become the face of your business, your open-all-hours store, your best employee ever and the means for you to build the life that you have always dreamed of. You really should work out how to look after it.
What if you knew exactly what to do and when to do it?

What if you had a framework and structure for looking after your website for the entire year, complete with helpful to-do lists and calendar reminders?


Imagine how much easier it would be to look after your website if everything you needed to do was a clearly defined task which only took you a few minutes every week?

If you're like most people, you're super excited about your new website. But, somewhere along the line, you might start to ignore it because you're not sure what to do with it... and that can lead to waking up one day and realizing that your entire site needs to be rebuilt from scratch.


And nobody wants that to happen…


Looking after your website once it is out there in the real world is a mixture of bigger picture strategy and all the details thinking.
The Care + Keeping of Your Website gives you the roadmap you need to know exactly what you need to do, when you need to do it, and why it matters. From taking care of basic needs like scheduling maintenance and keeping an eye out for updates, to strategically growing your site with relevant content, to evaluating whether your website still works for you not against you, this course gives you the framework that you need to masterfully manage your site without overwhelm or neglect.
Enroll now for the early-bird price!
This is the easy button you would be looking for if you knew to look for it...
---
The Care + Keeping of Your Website gives you an overview of the bigger picture of your website. It clearly explains what technical things you need to be looking for and addressing (like backups, updates, plugins etc), and also addresses what you should be doing to build your content (like blogging or producing tutorials), but perhaps more importantly it gives you a framework for evaluating your website to make sure that it continues to be relevant, up to date, and perfect for you.
From there, that bigger picture view is broken down into small, actionable tasks which you can do in just a few minutes a week. There is a framework to follow, with weekly and monthly tasks which are easy to complete and integrate in to your life.

When you follow the Care + Keeping of Your Website plan to allocate time to actually grow and develop your website, and schedule a few minutes a week to evaluate and maintain it, your online home will always be up to date and on point.

THIS COURSE COVERS THREE MAIN FOCUS AREAS:
1. MAINTAINING YOUR WEBSITE
You have to keep your website alive, this is important
2. EVALUATING YOUR WEBSITE
You need to ensure that your website is relevant for you and your customers, always
3. GROWING YOUR WEBSITE + TRAFFIC VIA NEW CONTENT
If you want to give peeps a reason to come to your site, they need a reason to come to your site...
AND GIVES YOU THE STRUCTURE + FRAMEWORK TO
MAKE YOUR OWN ROADMAP + STRATEGIC ACTION PLAN
A step by step process for performing your own in-depth website review whenever you need it - so you can critically evaluate what you have and what you need, without getting distracted.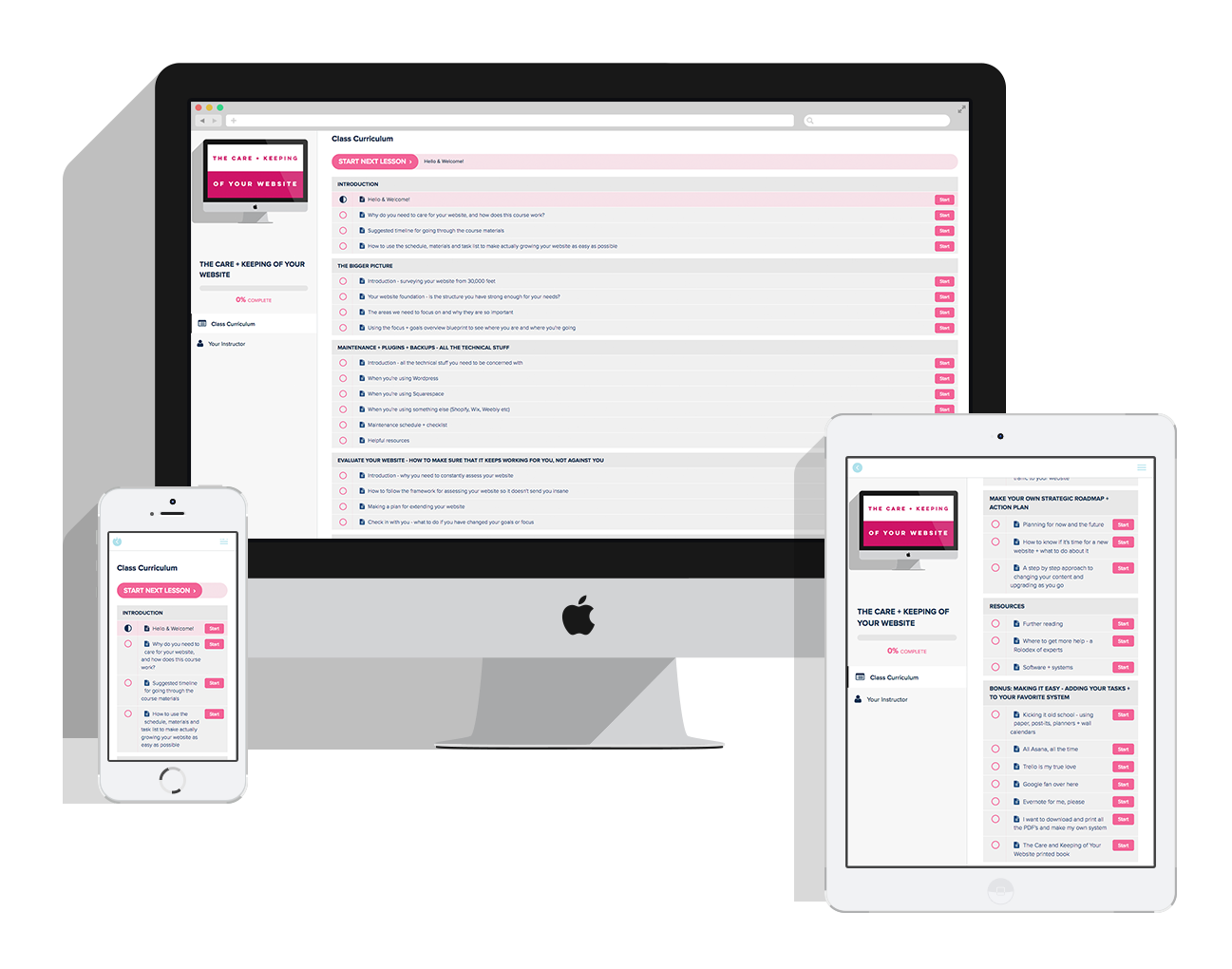 The Care + Keeping of Your Website is delivered via
a mobile-friendly course membership site so everything is in one place and available on all devices.
Each lesson consists of:
video content so you can see what you are doing
+
option to download and print the slides for future reference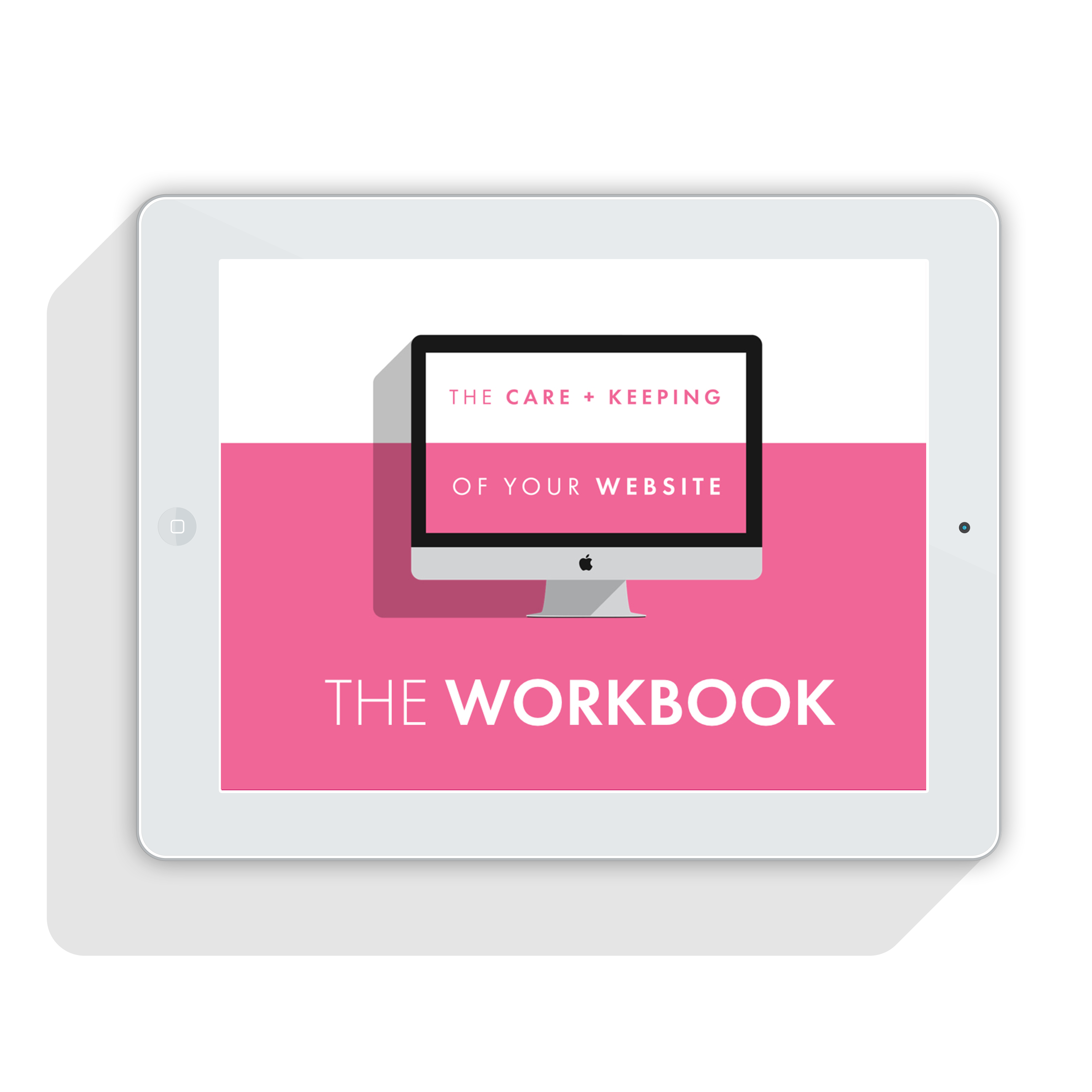 The Care + Keeping of Your Website actionable materials include
PDF's delivered throughout the course give you a framework for your tasks and room for note-taking.
All of the course checklists and action plans are compiled into a workbook so you have everything in one place.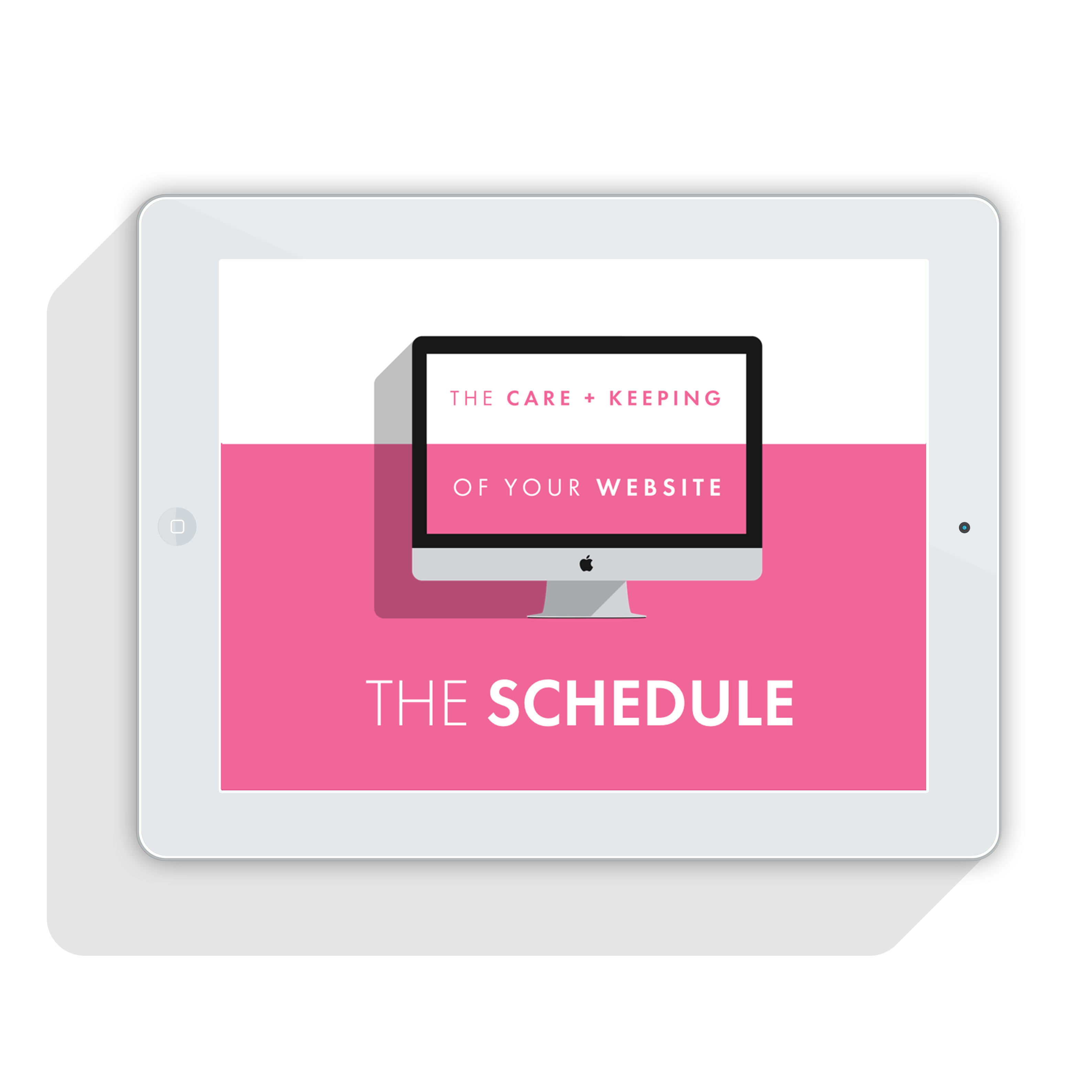 The Care + Keeping of Your Website schedule is designed to fit around the way that you work.
You can print it out and refer to it weekly and monthly for the whole year (then print it again for next year).
Or you can use the ready to use templates with tasks and deadlines already created in your favorite to-do list calendars and software.
Enroll now at the early-bird price!
Imagine knowing exactly what you need to do every week and every month to nurture and grow your website, no more guessing required!
Look after your website so it can look after you!

This course is for you if -
You have some sort of online venture in the form of a website. It doesn't matter if it is a blog or an e-commerce store or if you sell services.
You run a small business rather than a giant empire.

You are new to online business or you've been online for ages - if you're looking for structure, this will work.
You're interested in knowing What to do, Why to do it, and How to do it when it comes to maintaining and growing your website.
You don't have a tech team working for you and you're feeling a teensy bit lost when it comes to looking after your website.
You like the idea of having a blueprint to work from; a set list of tasks to complete each month to build your website.
You are comfortable using a computer or you are willing to take the leap of faith required to become comfortable.
This course is not for you if –
You have a giant e-commerce venture like Amazon.
You rebel against lists and action steps and simply refuse to do them.
You have a tech team dedicated to the maintenance and update of your website.
You have zero interest in keeping your website up to date.
Your Instructor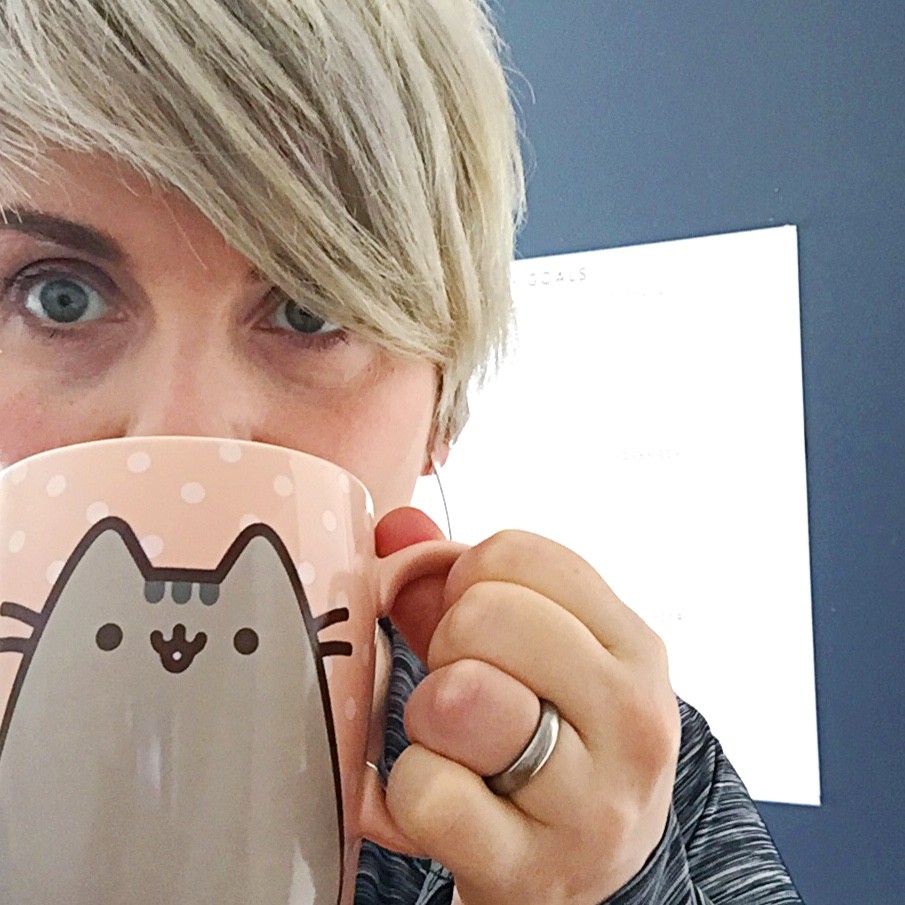 I believe that creative ideas + design + action can change the world.

That brilliant project which keeps you awake at night dreaming and scheming, plotting and planning? I'm here to help get it out of your head, off your to-do lists, and into the real world - quickly, easily and beautifully.
Hi, I'm Helen. I'm a British artist and designer living in Portland, Maine. I am a coffee addict, a fancy donut fiend and parent to three kids, two cats, an assortment of other critters and Waffles the Pug (who features in all my videos, through the medium of loud snoring...)
I have been teaching art to adults and kids for the last decade, have been an online entrepreneur since 2008, and have run a website design company since 2014. I'm taking all my experiences and skills and mixing them together to create courses and resources to make starting and running a blog or business online easier for people with big dreams and limited time.
Frequently Asked Questions
What happens when I purchase the course?
When you are ready to purchase, click the button to enroll.. At checkout you will be prompted to pay via PayPal or credit card. The course is immediately accessible.
When does the course start and finish?
This is a completely self-paced online course - you decide when you start and when you finish.
How long do I have access to the course?
How does lifetime access sound? After enrolling, you have unlimited access to this course for as long as my business is in operation - across any and all devices you own. Should the course be taken offline, you will be given notification and the opportunity to download all materials for your own lifetime use.
Can I just dip into the bits of the course that I need, when I need them?
You can - but you will get more from the course if you get a sense of the bigger picture of your website by seeing the inter-connected nature of everything and how it all works together. Having said that, it's your course and your website, you have to do what works for you!
How much time will this take?
This course is self-directed so you can do it whenever you like. It is recommended that you go through the entire course once your website launches, and then you can dip into it whenever you need to refresh your memory. If you do the whole course over a weekend, you should anticipate working from about 10am to 6pm, with a leisurely break for lunch on both days.
What if I find this too overwhelming?
If you cannot commit to working on this in one go, or you find yourself overwhelmed, it is ok to slow down. However, do whatever you can to keep going, with whatever bribes might help, and try and get it done as a priority if that's possible. Once you have followed the course content, commit to following the action steps on a weekly and monthly basis.
What equipment do I need to complete the course?
To follow the course you will need a computer and an internet connection which allows you to watch videos. You will need access to a printer to print your action sheets, and maybe a binder to keep them in. You should have a website.
How techy is this course?
This course is intentionally not very techy. It's about the bigger picture and the smaller details, and getting everything in place for your website to thrive and grow. The aim is to make it easy for you to do the work - and massive tech-based tutorials don't usually make things easier if you're not tech-focused. If you have a Wordpress website, there are various maintenance / update things you need to do, but with the right tools and resources, they do not need to be difficult. There are suggestions for people and services who can help you with this aspect of your website.
Does it matter what kind of website I have (Wordpress, Squarespace etc)?
If you have a website for your online home, you need to look after it. The majority of the content of this course is universal to everyone with a website. The maintenance side of the course addresses tasks which should be done on all websites. While the course mentions Wordpress and Squarespace specifically, it does point to resources for other platforms such as Wix, Weebly, Shopify etc.
Does my website need to be new?
No! If you have a website, you need this course. In an ideal world, if you follow the guidance in this course as soon as you have a new website you will always be working with your website, not against it. But if you already have a website that you have not been paying enough attention to, this course will help you get back on track to where you need to be. Just as an FYI - If your website is super duper old and broken, you might realize that you need to update it or re-do it as a result of following this course (but maybe you knew that anyway, deep down?) The course includes an action plan on what to do when you have to re-do everything, so you can get it right second time around and grow your website into what it really should be.
Do you offer tech help if I get stuck with an update or back up or something?
Unfortunately I can't help you fix any tech issues, but I know plenty of people who can - there's a Rolodex of resources of peeps who will be able to help you, at various price points.
There seems like a lot to do, how will I know when to do it?
Looking at the course content can seem overwhelming, but it's really just a series of steps that you follow one-by-one. There are demonstrations showing how to put the to-do lists and schedules into a variety of formats to fit your planning system, as a valuable bonus. Whether you work in Asana, Trello, Google, Evernote or on paper, you can use the instructions and schedules to set yourself up for success.
What if something breaks when I update my site?
Sometimes, tech lets us down. And sometimes it can be really frustrating and annoying and hard to trace the problem. This course offers general tech and maintenance advice, but is not a substitute for a professional web developer. The course will always remind you of best practices - like backing up your site before you make any changes - but cannot be held responsible for any tech issues that arise as a result of you updating or maintaining your website. Resources are given for customer support for various website platforms, and there are recommendations for service providers who are super helpful in times of need.
Can I get someone else to do the work for me?
Some aspects of your website upkeep can absolutely be given to a VA or a tech person to do for you. This course gives you a great framework for what needs to be done and when, so you can easily pass that on to an assistant. When it comes to content creation and updating, you can certainly work with others too, as long as you have the bigger picture view in mind of what you need to do and why. For the website evaluation aspect, it is recommended that you tackle this yourself, unless you have a partner who shares your vision and you have 100% trust in their judgement.
What if I am unhappy with the course?
I stand behind The Care + Keeping of Your Website 100% and will do my utmost to make sure that you are happy. Due to the nature of the content, no refunds are available but I will work with you to attempt to resolve any issues you may be having.
I'm a web designer / business coach and this would be perfect for my clients....
You're so right, this *would* be perfect for your clients! I'd love to work with you to make this happen, please contact me to discuss bulk purchase rates or other ways that we could work together.